Pyranha Master TG
Pyranha Master TG
description
MASTER TG
A boat for the 21st century paddler: the Master TG's been designed from first principles to help you progress. It's short, light, easy to turn and easy to paddle.
The semi-flat hull and forgiving rails mean it's as well suited to easy rapids, coastal trips and days on the lake as it is to your first time afloat. With innovative moulded in handles and an optional retractable skeg for the longer trips, the Master TG will take you where you want to go.
OUTFITTING
CLUB
Fixed Seat
Simple, lightweight, and low maintenance.
Adjustable Backband
Padded backband with speed buckle support adjustment.
Thigh Grips
Moulded in to the cockpit rim for low maintenance and weight.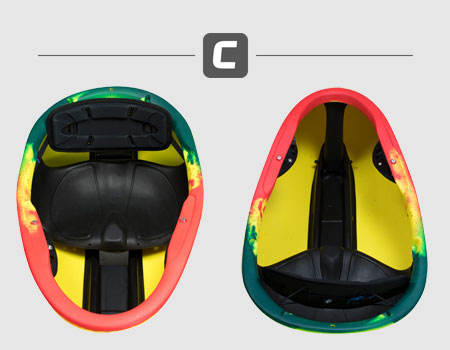 DIMENSIONS, VOLUME & WEIGHT
Sizes
None
Length
266cm / 8' 9"
Width
64cm / 25"
External Cockpit Length
95cm / 37.5"
External Cockpit Width
51cm / 20"
Volume
225l / 59gal (US)
Hatch Volume
N/A
Weight
16.5kg / 36.5lb
Optimum Paddler Weight
45 - 100kg / 99 - 220lb
COLOURS
Sunburst
Aqua Splash